Chapter 7: GSTR 3B - Deep Dive
GSTR – 3B: DEEP DIVE
In this video, we will deep dive into GSTR-3B and discuss everything you need to know to be GST compliant. 
Taxpayers in India have to file certain returns under GST and GSTR-3B is one such summary return to be filed on a monthly basis. This return has to be filed regularly and mandatorily, and any sort of non-compliance towards the same may lead to disallowance of input tax credit, apart from attracting interest and penalties.
GSTR–3B is a simple return form introduced by the Government. This form does not require invoice-level information. It only requires total values for each field, for the month in which the filing is done, on a self-declaration basis. The tax liability for that particular period should be disclosed and paid before filing GSTR-3B.
Once filed, GSTR-3B cannot be revised.
Who has to file GSTR – 3B?
All GST registered suppliers are required to file GSTR – 3B, irrespective of whether they have carried on any business transactions in that particular month or not. In other words, GSTR–3B has to be mandatorily filed, either as a nil return or as a regular one.
The filing can be done through:-
The online GST portal –

www.gst.gov.in

Through a GST Suvidha Provider
There are certain categories of registered persons who are exempted from filing GSTR-3B such as:-
Input Service Distributors (ISD)

Dealers registered under the Composition Scheme

Non – resident taxable persons

Suppliers of online information, database access or retrieval services (OIDAR)

who have to pay taxes themselves.
When is GSTR – 3B due?
It is mandatory to file GSTR – 3B on a monthly basis. The due date for the filing of GSTR – 3B is the 20th of the succeeding month. For instance, the GSTR – 3B for January must be filed by the 20th of February.
What does GSTR – 3B contain?
GSTR – 3B has to be filled in with the following details:-
The GSTIN is auto-filled. This is a PAN-based 15-digit GST identification number.

The Legal Name of the Registered Person also gets auto-filled.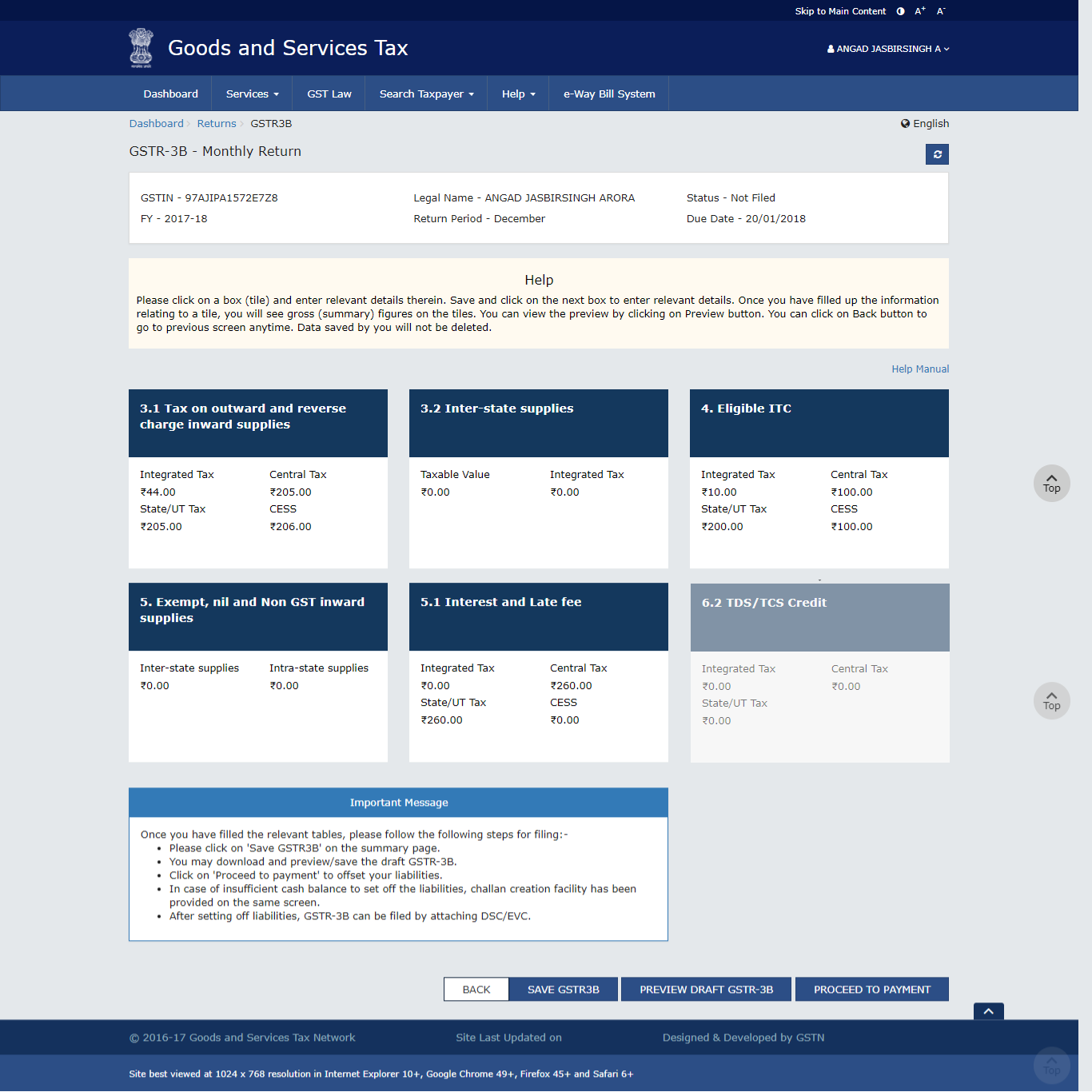 A) In the first section, details of Outward supplies and inwards supplies liable to reverse charge are to be filled-in.
This table has a total of five rows wherein information has to be filled.
a. Outward Taxable Supplies, other than Zero-rated, Nil-rated and exempted.
The supplies to be entered under this head are those for which the regular rates of GST are applicable.
b. Outward Taxable Supplies (Zero – rated)
For supplies whose GST rate is zero, the details must be provided in this row.
c. Other Outward Supplies (Nil rated)
Details with regard to supplies which are exempt from GST or are nil rated shall be entered in this row.
d. Inward Supplies (liable to reverse charge)
Any purchases that are made from unregistered dealers for which reverse charge is applicable shall promptly appear in this particular row.
e. Non-GST Outward Supplies
Those supplies which do not come under the purview of GST are called Non-GST outward supplies. 
(points a to e)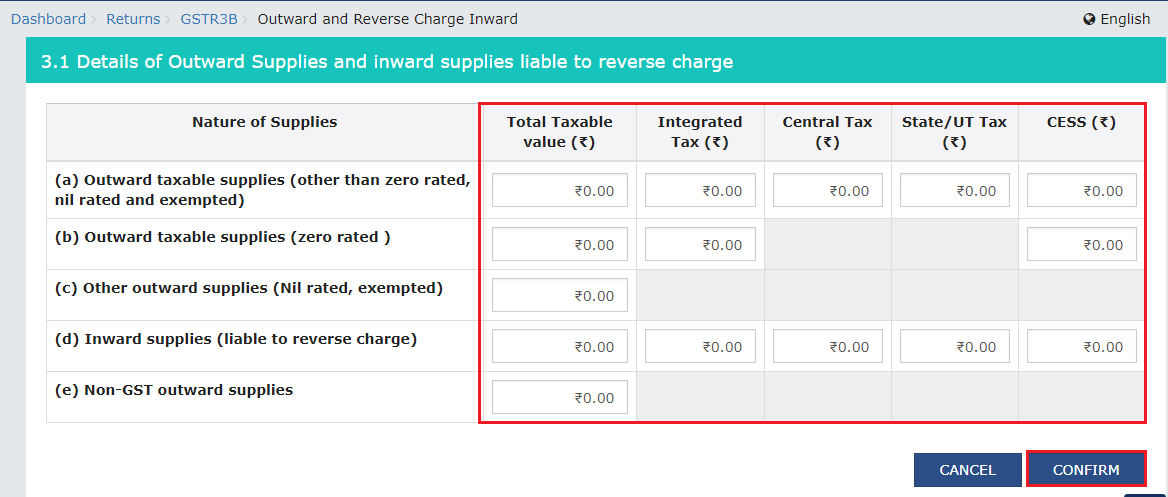 B) The second section requires details of inter-state supplies made to unregistered persons, composition taxable persons and UIN holders in the next table. These details need to be declared state-wise/union territory-wise, along with the corresponding IGST liability.  
Side note: UIN is a class of GST Registration exclusively for foreign diplomatic missions and embassies which are not liable to taxes in the Indian Territory. The whole idea behind having a GST UIN is to enable the body to collect tax refund on purchases/inward supplies of goods and services.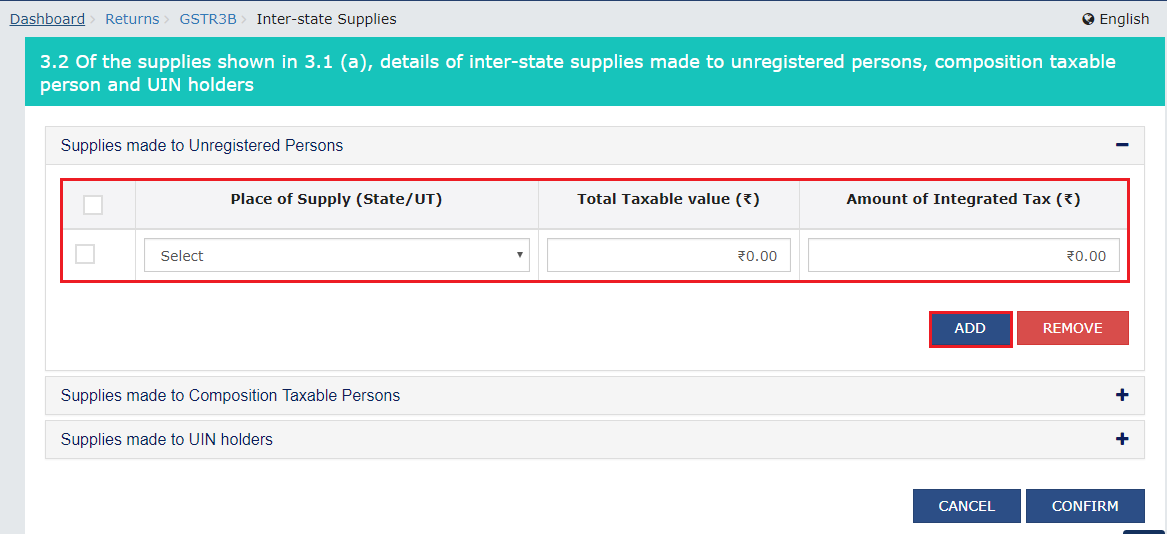 C) The third section is for details of Input Tax Credit (ITC) to be filled-in.
In the next table, all details pertaining to input tax credit should be disclosed, such as-
a. ITC available
Details pertaining to the import of goods and services, inwards supplies on reverse charge and Input Service Distributor and all other claimable ITC. 
followed by,
b. ITC Reversed
ITC is reversed in a few instances, such as
On goods partly used for non-business purposes

On inputs/input services used for exempt supplies
etc.
c. Net ITC available
The difference between the value of ITC available and the value of ITC reversed will result in the Net ITC that is available.
d. Ineligible ITC
ITC that is not eligible to be claimed shall appear in this particular row 
(points a to d)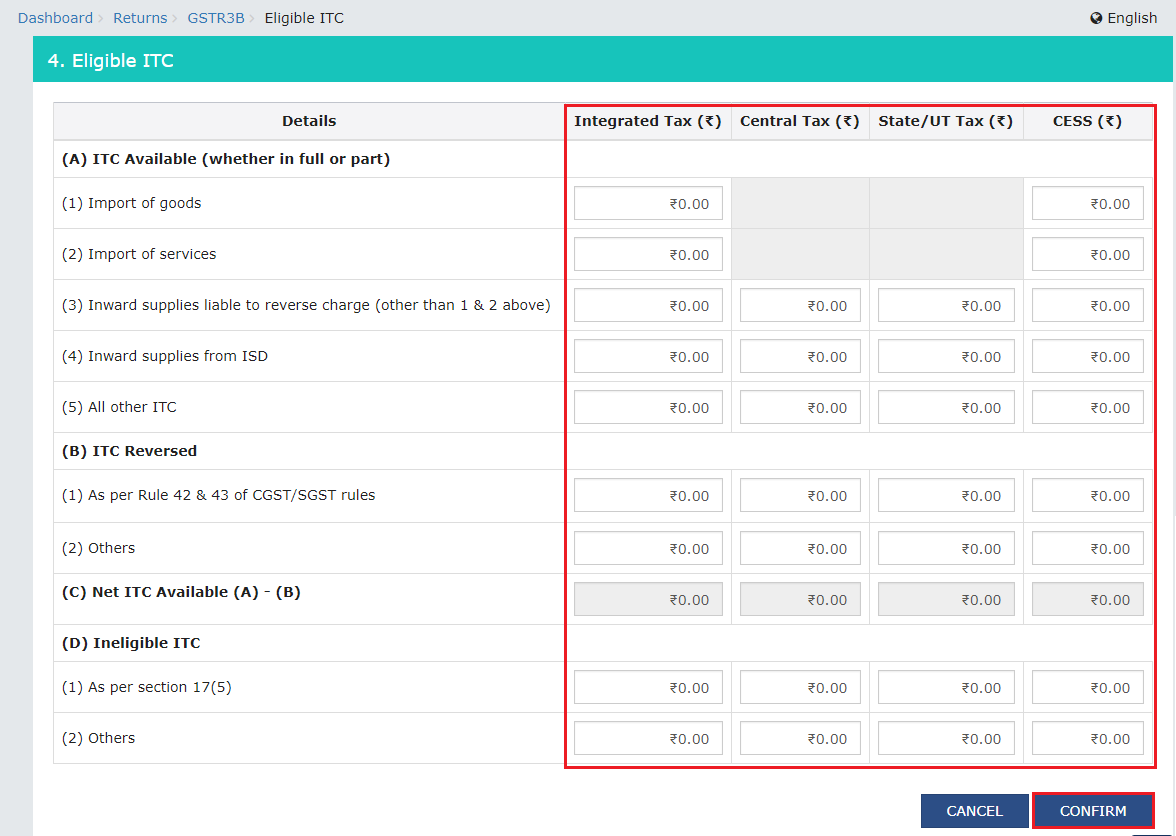 D) In the fourth section, values of exempt, nil rated and non-GST inward supplies and purchases from a composition dealer must be filled in appropriately under this table.

How is the payment of tax made?
After entering all the relevant details, click "Save GSTR-3B". A message will be displayed at the top of the page saying that information has been saved successfully.

Once the details are saved, the taxpayer has the option to "Preview draft GSTR-3B" to check for any error.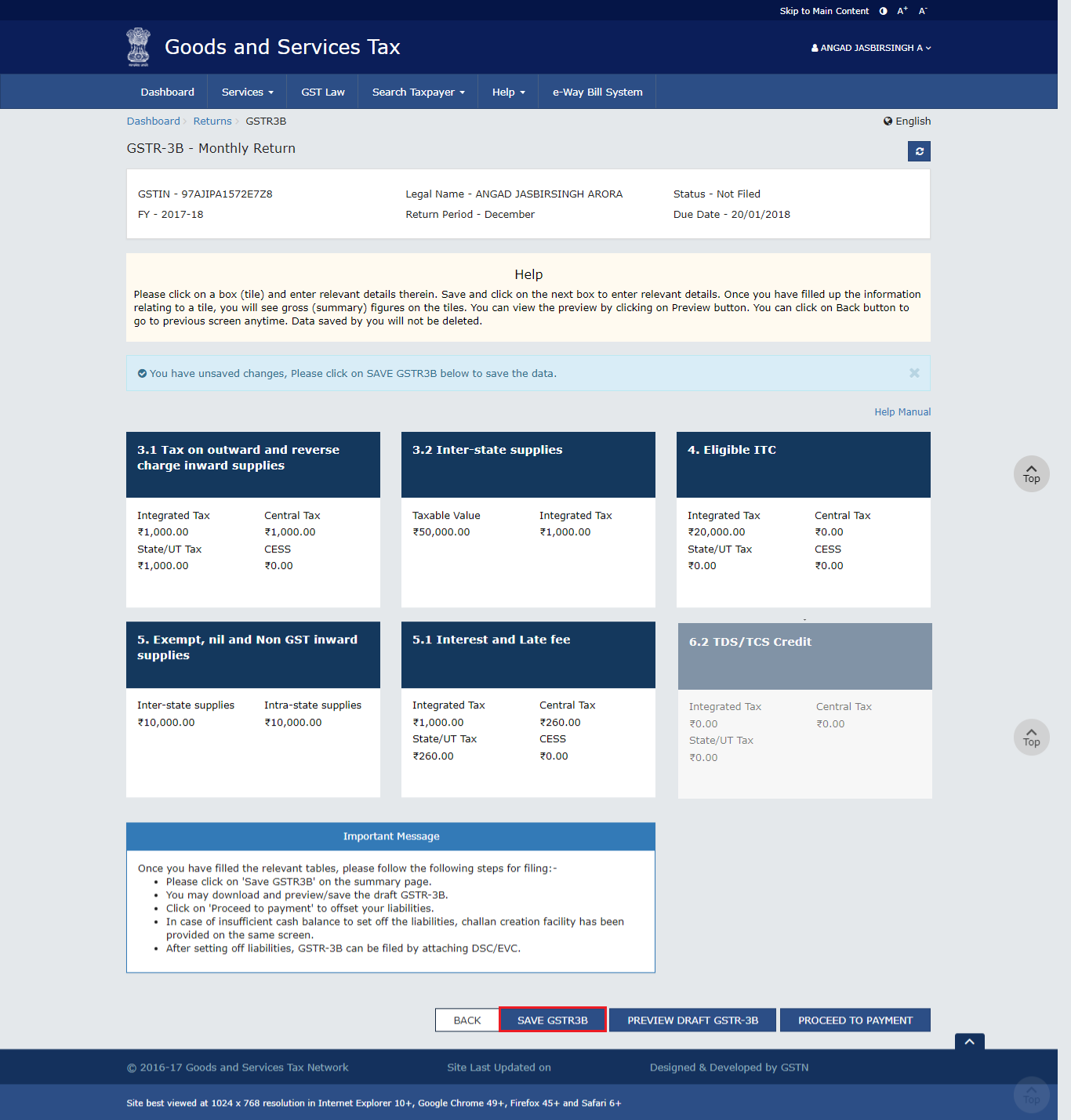 Next, the taxpayer can proceed towards making payment by clicking the "Proceed to payment" button at the bottom of the page.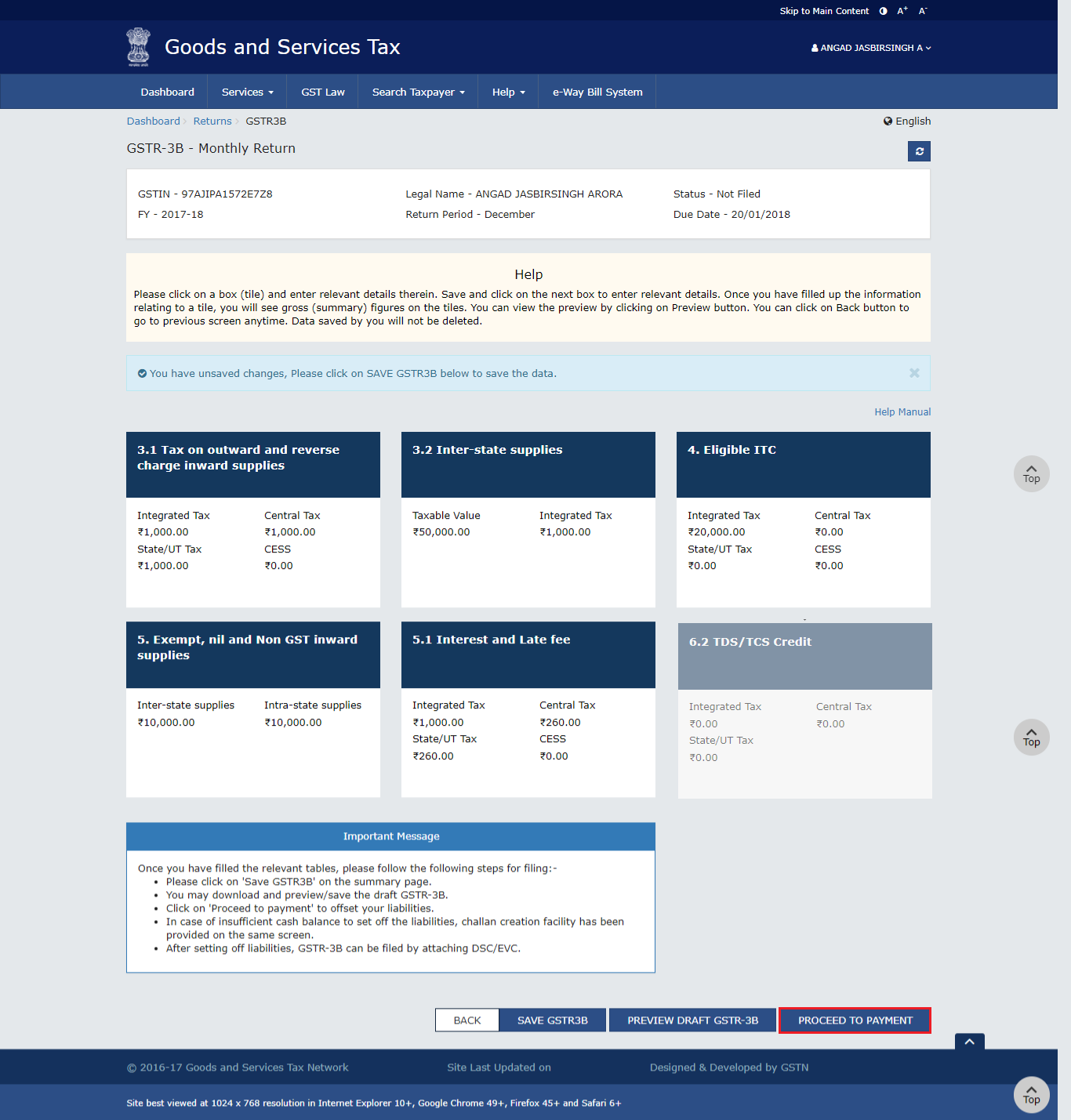 The balances in the credit and cash ledgers as on date will be displayed on the next page.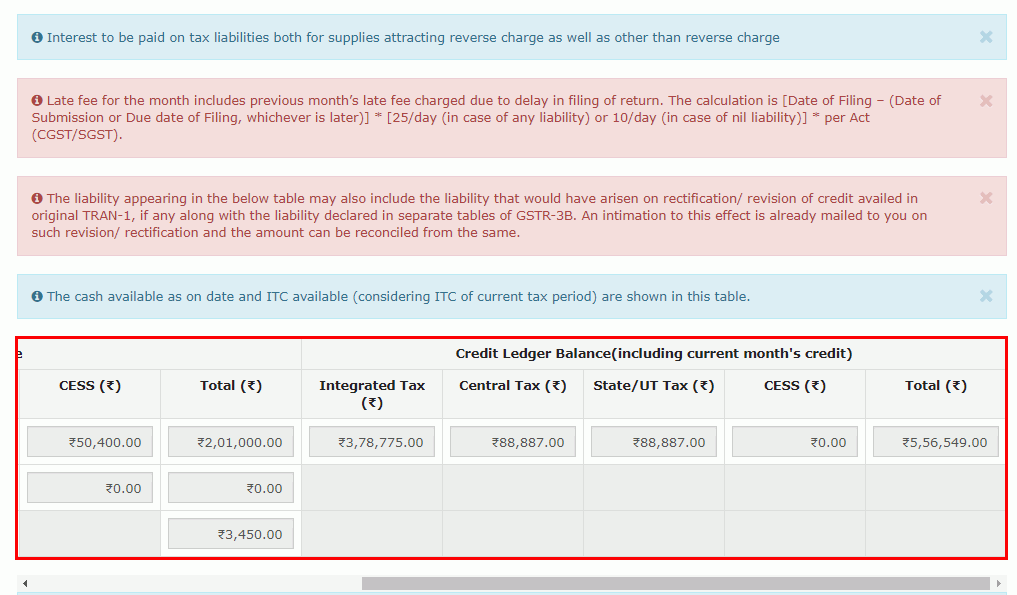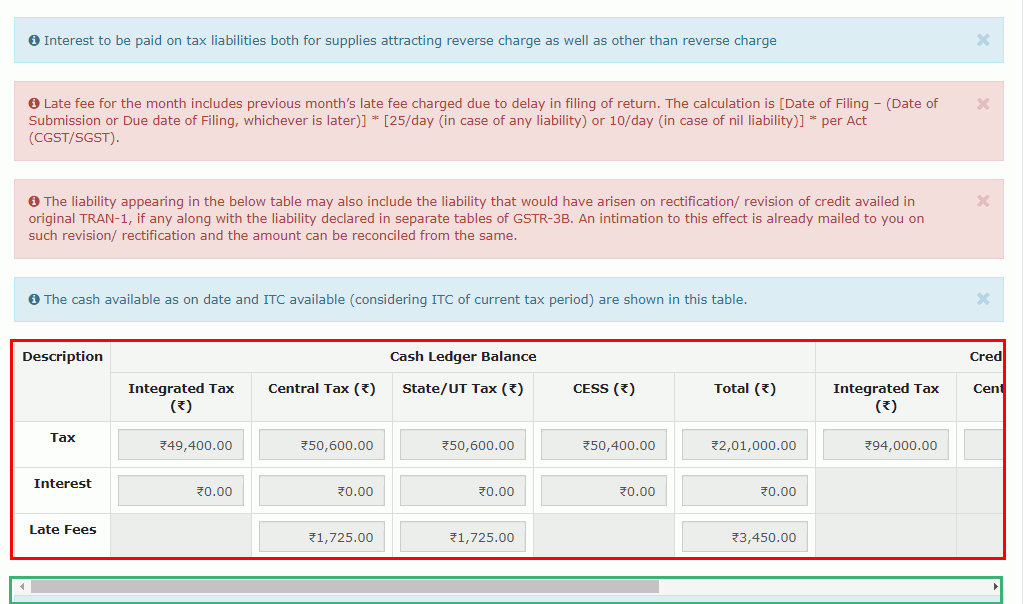 The system auto-populates "Tax to be paid through ITC" fields with optimum utilization amounts based on provisions of the law relating to credit utilisation.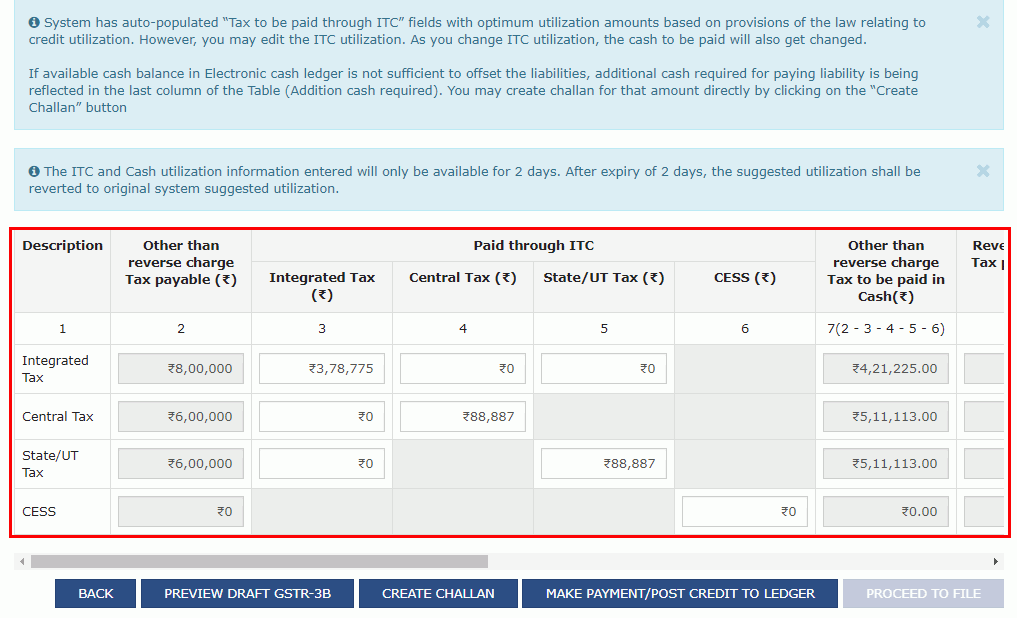 However, a taxpayer may edit these cells. As the ITC utilization cells get edited, the cash to be paid will also get changed.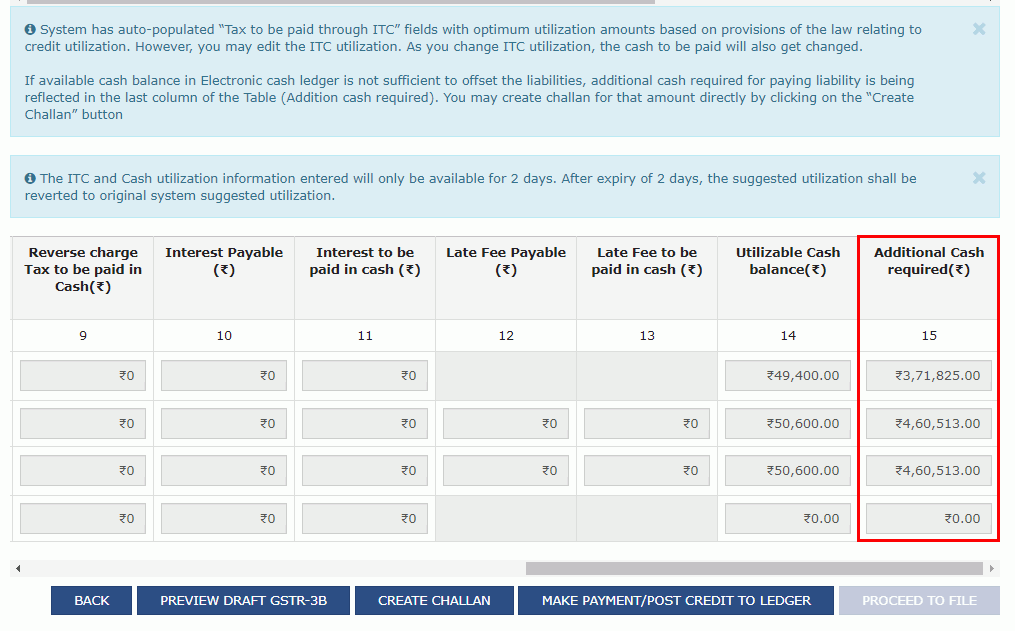 Next, click the "Make payment/post credit to ledger" button to offset the liabilities or to claim credit in case of no liabilities.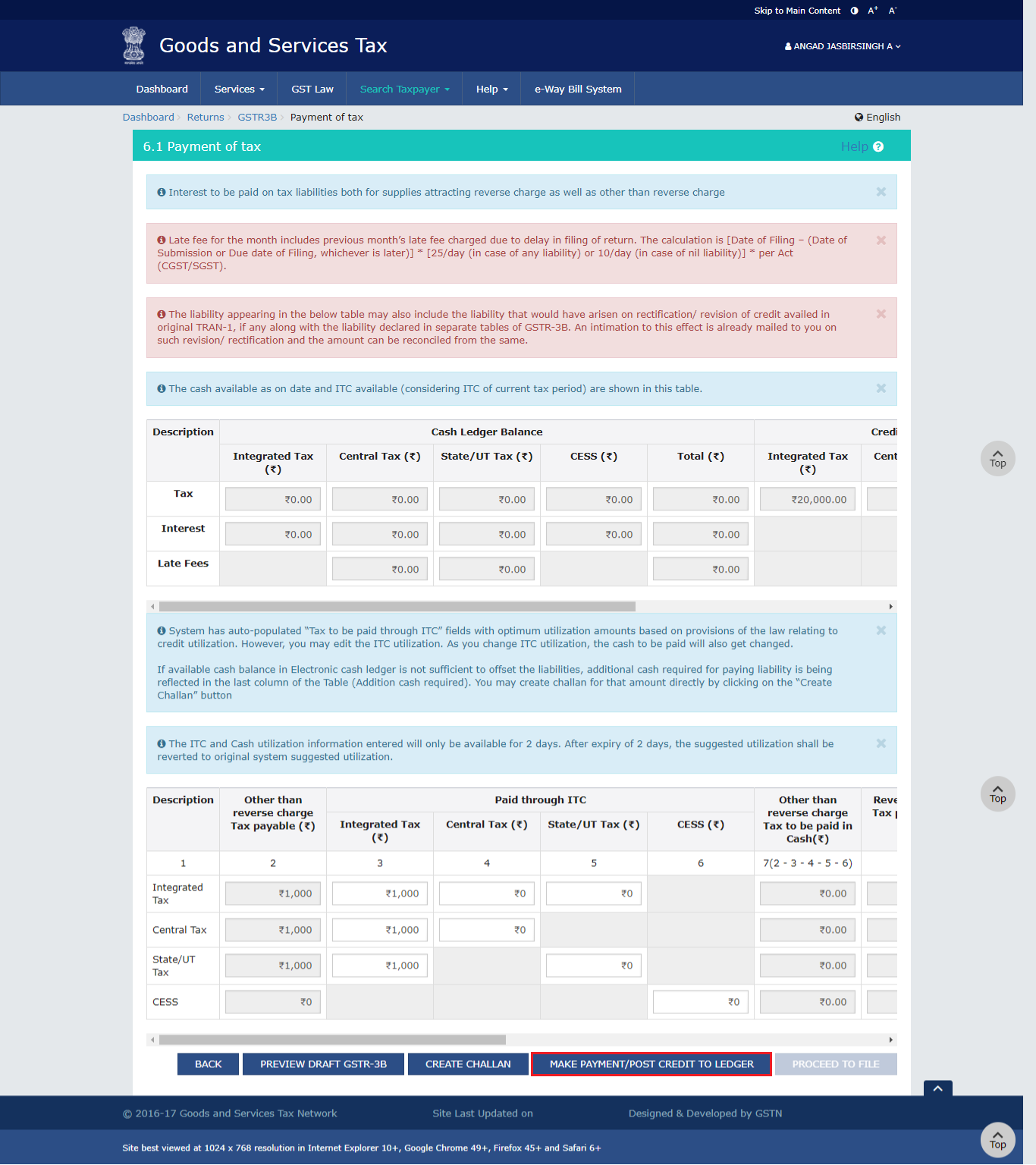 Incase you have insufficient balance in your electronic cash ledger, the option to create a challan will pop-up. Click the "yes" button to create a challan. The amounts in the challan will be auto-populated. Select the payment mode such a e-payment/over-the-counter/NEFT or RTGS, click the "generate challan" button and proceed to make payment.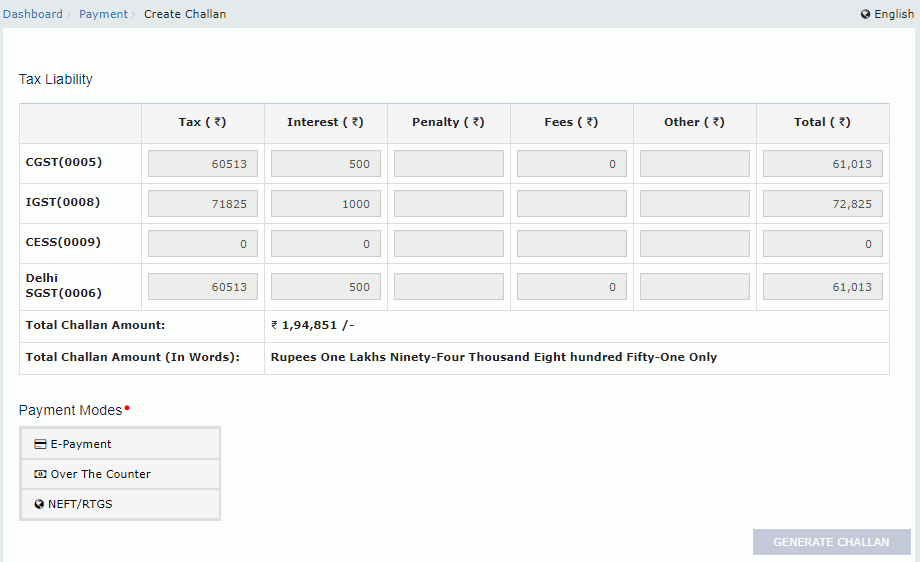 Note: If TDS/TCS has been deducted by the deductors/collectors, then the deductee need to file 'TDS/TCS credit received' through the relevant tab on the portal. The deducted amount will appear in Cash Ledger and can be used for payment of the balance amount of tax.
Once the payment is made, a confirmation message is displayed. Click the YES button.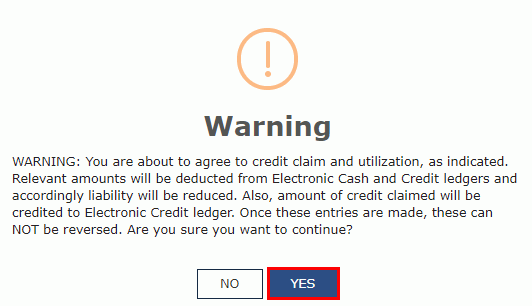 all liabilities have been offset, the "Proceed to file" button is enabled, and the taxpayer can proceed with filing the GSTR-3B return.
The filed return can be downloaded and saved for the taxpayer's record.
That's all for GSTR-3, we'll be back with more videos so stay tuned and let ClearTax help you stay GST compliant.